Dental Implant: Single Tooth Replacement
When a tooth is missing, a replacement tooth should be put into the open space in order to maintain proper dental alignment and health. Dr. Adair has helped patients permanently restore their smiles.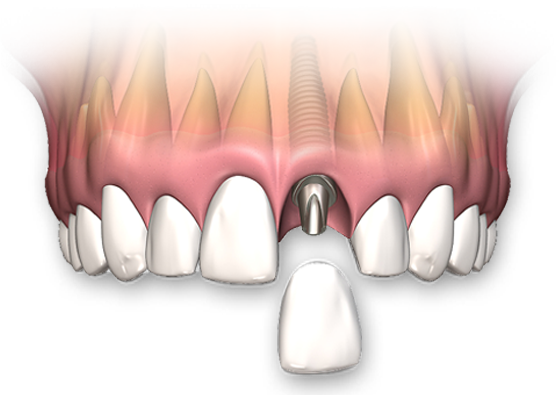 What is a Single Tooth Replacement?
For patients missing or soon to be missing a single tooth, a Single Dental Implant Restoration is the ideal solution. There are multiple treatment options to consider when replacing a missing tooth, but dental implants are a permanent, worry-free solution. Consisting of a small screw and a customized crown, dental implants are ideal for replacing a missing tooth without impairing gum health or damaging surrounding teeth.
What Can I Expect During the Single Tooth Replacement Process?
Modern dental implant technology and procedures allow most single tooth implant patients, even those with a failing tooth to have an implant and temporary crown the same day. This scenario creates a seamless treatment with the patient usually leaving with a much better tooth than the original. After a few weeks, a permanent implant crown can be delivered to replace the temporary crown. The permanent crown is either screw or cement retained. Screw retention is the preferred method because it is more hygienic.
Benefits of Single Tooth Implant Replacement:
No damage to natural teeth (compared to tooth bridge)

Maintenance of Bone Volume (the implant preserves the bone)

Less Force on Surrounding Teeth (the implant strengthens the surrounding teeth/arch)

Better Aesthetic Outcome (if the implant is properly positioned)
Contact us today to schedule a consultation and find out how our single tooth replacement services can benefit your oral health and appearance.